Dealing with VAT in QuickBooks® Online
Please note: this post has been updated (Oct 16).
Further update Dec 16.
In order to achieve accurate VAT returns to HMRC (known as VAT 100) accurate VAT data has to be entered into QBO.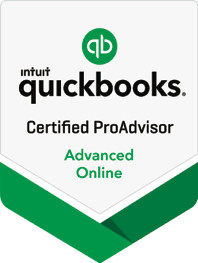 In many respects QBO makes this easy for us: we can set default VAT codes for expense accounts and it also remembers previously entered VAT information for suppliers and customers. Both of these facilities, however, can lead to errors that will lead to incorrect totals in the VAT reports which will be used to complete the VAT 100. Specifically,
an expense account can have a default code but not all items posted against that account will have that code (Travel may have a 20% default to cover fuel costs, but public transport tickets have 0% VAT rate)
QBO will be quick to pick up repeat expenses to the same supplier using both expense account and VAT codes from the earliest transactions; if these were posted incorrectly, that error will replicate itself across numerous transactions and can potentially lead to large differences in the end.
So it is best to be mindful of the different VAT codes that are possible within QBO and also what broadly will fit within them.
Firstly, be aware that one of the company preferences that has been set will indicate whether the default in transactions is for 'VAT inclusive', 'VAT exclusive' or 'No VAT'. This can be changed within each transaction, but the data entered should reflect what is set in this drop-down: if set to 'VAT inclusive' it is important that the gross figure is entered leaving the VAT to be split out automatically.
Here are the different default VAT codes within QBO and examples of the sorts of items that will be set against them:
20.0% S
Standard (In QBO there are Sales and Purchases 20% S codes)
Most goods and services
5.0% R
Reduced
Domestic fuel & power

Installation of energy saving materials

Residential conversions

0.0% Z
Zero-Rated
Most food

Books/ newspapers/ magazines

Children's clothing

Public transport

Exempt
Exempt from VAT

Goods supplied by or purchased from a non VAT registered business (this is to ensure the purchase appears in the correct box on VAT 100)

Stamps and postage

Insurance and finance/ credit

Education and training

Subscriptions

Betting/ gaming/ lottery

20.0% ECG
EC Goods Standard
Intra EU B2B purchase of Goods

In B2B transactions, it is the customer who must account for any VAT due via the reverse charge mechanism (i.e. the customer must act as if they are both the supplier and the recipient of the goods).

20.0% ECS
EC Services Standard
Intra EU B2B purchase of Services
0.0% ECG/ECS
EC Goods/ Services Zero-Rated
Intra EU B2B sale of Goods/ Services

If the EU customer is not VAT-registered, then the applicable UK rate of VAT is charged.

20.0% RC
Purchase Reverse Charge
Extra EU Reverse Charge
0.0% RC
Sales Reverse Charge
Extra EU Reverse Charge
No VAT
Outside the scope of VAT
Local authority rates

Wages/ salaries

Donations to charity

Statutory fees e.g. MOT/ congestion charge/ fines
The subtlety is between zero-rated, exempt and outside the scope of VAT. The first two are reported on VAT 100 and the last is not so it is best to get them accurate. Strictly speaking a zero-rated product is being sold with VAT, but at 0% currently, whereas an exempt product is being sold without any VAT.
If you are in search of more detailed information regarding how QBO deals with the various UK VAT situations and how it posts to the various boxes on VAT 100 have a look at this QBO VAT helpsheet.
Setting up VAT in QuickBooks® Online
If you're stuck with the initial set-up of VAT in QBO have a look at this helpful training video.  Good luck!

Dealing with VAT in QuickBooks Online